---
October 8, 2011 - I have been looking for one of these small footprint seed cleaners for many years. Although they are still made for testing labs and office applications, the purchase price is too high for our meager budget.
The older models would be great, but they have become scarce over the years and the ones that do appear are typically bought up by antique collectors as interesting specimens of our agrarian past. This month I finally was able to get one.
All of the little parts and pieces survived and are here. Additionally, it came with several screens. These included, screens: 1/12, 1/14, 1/15, 1/16, 1/18, 1/20, 1/22, 1/25, 28/28 and 30/30. They measure 9.75" X 15".
October 8, 2011 - I emailed A. T. Ferrell over the weekend to see if they possibly have screens that will work in our cleaner. I heard back from them this morning asking for photos. I Am quickly getting this web page up for their review. Hopefully they will have some solution for me as I need to be able to clean larger seeds like corn, soybeans, peas, and beans.
---
General Operating Principles: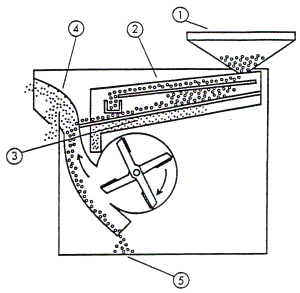 1. The seed to be cleaned is fed into the hopper and through the vibratory action created by the machine, it is spread evenly across the full width of the top screen.
2. The material then moves across the top screen, which has openings larger than the desired seed itself. The larger foreign material is "scalped" off while the seed and smaller material falls through the screen.
3. The bottom screen can either sift or scalp. To set up for sifting, the bottom screen openings must be smaller than the seed being cleaned. Trash, weed seeds and splits drop through the bottom screen while the good product passes over it. (This is the flow shown in the diagram above). When scalping, the screen openings must be larger than the seed itself. The large foreign material is "scalped" off while the good seed falls through the screen.
4. Next, the product is routed through a column of air from the bottom blast fan. This blast of air effectively removes any lightweight trash and dust that may have remained after screening.
5. Good, clean seed is discharged at the bottom of the air chamber into a clean seed box.