---
October 8, 2011 - I have been looking for one of these small footprint seed cleaners for many years. Although they are still made for testing labs and office applications, the purchase price is too high for our meager budget.
The older models would be great, but they have become scarce over the years and the ones that do appear are typically bought up by antique collectors as interesting specimens of our agrarian past. This month I finally was able to get one.
All of the little parts and pieces survived and are here. Additionally, it came with several screens. These included, screens: 1/12, 1/14, 1/15, 1/16, 1/18, 1/20, 1/22, 1/25, 28/28 and 30/30. They measure 9.75" X 15".
October 8, 2011 - I emailed A. T. Ferrell over the weekend to see if they possibly have screens that will work in our cleaner. I heard back from them this morning asking for photos. I Am quickly getting this web page up for their review. Hopefully they will have some solution for me as I need to be able to clean larger seeds like corn, soybeans, peas, and beans.
October 13, 2011 - I heard back from Phil Teeple, Clipper Sales at A. T. Ferrell Company who told me that our Clipper was manufactured before 1950, but that was as close as he could narrow it do to. He also let me know that screen material, and the screens themselves, were still available for sale.
July 9, 2018 - Wow does time sure fly! The cleaner has sat on the workbench in the farm's shop for nearly seven years now without being used. Part of my resolution for 2018 was to not start any new projects until all of my existing projects have been completed. The big project right now is reviving our IH 606D tractor but today I got side-tracked going through a month backlog of old emails. That is how I got back onto this project page ... a Technical Service Manager at A. T. Ferrell was researching old Clippers, ran across this page, and was curious about the functionality of one of the parts. He wrote:
"I have a question about one of the photos below. Above the trash shoot on the top left there looks to be a removable stick of wood. Can you tell me what that would be used for on that machine? It looks as if that [ed. when it] is in place it would prevent the trash from being discharged from under the bottom screen. I am not sure what that would be used for. I am doing some historical research on past equipment and would like to include that in my findings."
Following are more detailed photos of the area that he is interested in. I did confirm that with the piece in place, it seals off the functionality of the trash chute on that side of the machine. However, I do not know when or why it is used.
---
General Operating Principles: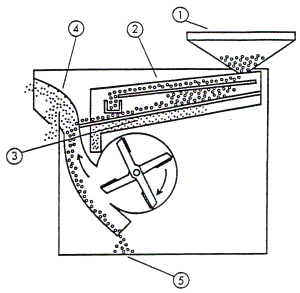 1. The seed to be cleaned is fed into the hopper and through the vibratory action created by the machine, it is spread evenly across the full width of the top screen.
2. The material then moves across the top screen, which has openings larger than the desired seed itself. The larger foreign material is "scalped" off while the seed and smaller material falls through the screen.
3. The bottom screen can either sift or scalp. To set up for sifting, the bottom screen openings must be smaller than the seed being cleaned. Trash, weed seeds and splits drop through the bottom screen while the good product passes over it. (This is the flow shown in the diagram above). When scalping, the screen openings must be larger than the seed itself. The large foreign material is "scalped" off while the good seed falls through the screen.
4. Next, the product is routed through a column of air from the bottom blast fan. This blast of air effectively removes any lightweight trash and dust that may have remained after screening.
5. Good, clean seed is discharged at the bottom of the air chamber into a clean seed box.
---
Links:
Company History:
Clipper Seed Cleaners were manufactured by the A. T. Ferrell company in Saginaw, Michigan.
The company still makes and sells agricultural equipment, including seed cleaners. The are on the web at:
http://www.clipperseparation.com