Welcome to Dunton Family Farms
Since 1909
---
North Entry / Kitchen Garden Retaining Wall
This project is a continuation of our attempts to "tame" nature on the farm . . . at least around where most of the human activity takes place.
In this case, the slope of ground from the kitchen garden facing the machine shed and all along the north entry driveway is being stabilized.
When it was a dirt and gravel road, it did not matter. But since it is paved, dirt and weeds encroaching on the asphalt is not very tidy looking.
---
August 7, 2007: Dad and I measured out the area. He worked on calculating the number of blocks needed and calling around for pricing. The manufacturer is local so he compared prices with local building supply companies. We are using Mutual Materials ManorStones®.
When we have had a few spare moments, John and I have worked with shovels and wheel barrows to remove soil in the area. We still have quite a bit of a ways to go.
---
August 8, 2007: I got some more digging in today. After spending some time working on the recoil starter on the tiller, I worked up the area that I removed soil from yesterday. I got another six inches or so excavated.
Dad went to Canby Builder's supply and placed the order. Over 38,000 pounds (14 pallets) of blocks are scheduled for delivery next Monday. They are bringing a flatbed and a forklift.
---
August 9, 2007: More tilling and digging again this afternoon.
---
August 13, 2007: Did more hand digging on Friday and also this afternoon. Today the delivery arrived. The pictures below are of the delivery.
The only bad news is that the stones intended to cap off the two main straight runs arrived as the wrongs ones. We ordered radius-faced, with straight side to match the radius-face, tapered side stones used for the majority of the wall. What arrived were flat face instead of the radius face. Dad called Canby Builder's and they said no problem. They took them back and were going to order the correct ones.
---
August 14, 2007: We got some work in on the wall. Basically I wanted to get a feel for how it would go. I had to do a lot of finish excavation work and fine tuning.
August 15, 2007: Got some bad news from Canby Builder's Supply today. They said that they don't know what to do. To cap the top of this wall so that it looks nice, we need a ManorStone® that is straight-sided but with the radius face. They make them but according to Mutual Materials web site, but not in khaki color. I emailed the manufacturer and am hoping that they reply quickly with a good resolution.
---
August 17, 2007: I never did get an email reply so I called Mutual Materials this morning. I explained the problem that I had with having the wrong cap stone blocks. The woman's name was Sarah and she said that she would look into it and give me a call. A couple of hours later she called with no good news.
She basically said that they do not have a solution for me. I can return all of the order for a refund minus a 15% restocking fee and a pickup charge and order another color.
That is not an option as I am not going to waste a couple of hundred dollars. I am leaning towards using another color that they have that is a bit darker colored brown-tone - "Harvest Blend." I would use that as the whole cap.
Actually, that is what I want to do as it will involve the least amount of returns, waste and hassle. I will figure out a count and deal with it Monday.
---
August 20, 2007: We have not done any work on the wall project pending a resolution to our problem. We are now one week behind schedule and fall feels like it is already here. Frustrating.
I did finally get an email from Mutual Materials this morning. They basically stated what the person on the phone said. "We no longer make radius-face, straight sided ManorStones® in khaki." Additionally, they basically told me that they would not talk to me any further, that I needed to deal with Canby Builder's Supply, even though CBS does not have the information that they do. Again, frustrating for me and also for CBS as they are stuck in the middle
That is all well and good but my question is, if you are offering a wall system, it is logical to offer all of the shapes. How may people are going to build walls that are all circles? It is reasonable to assume that straight sided blocks would be available. Oh well, enough of a rant. I did ask the person to verify that I can order the blocks in "Harvest Blend" color. We will take it from there.
---
August 25, 2007: What a nightmare this project has become. How hard should it be to buy concrete blocks and stack a wall? In this case, if you deal with Mutual Materials, it turns out that it is extremely complicated and ultimately expensive.
After communicating back and forth with Mutual Materials and then CBS on Monday, I thought that I had this straightened out and I went out of town for a couple of days. Dad worked out the details for payment and delivery with Canby Builder's Supply.
When I got home I learned that the price went up from $2.99 a piece when I place my original order to $3.69. They additionally charged us 20% ($275.08) "restocking fee" (not the 15% Sarah at Mutual quoted) on the wrong stones were sent last time and we didn't catch on the paperwork. Then there were "broken pallet fees" for another $40.00.
But the cost is not what has me steamed. This morning when I went to work on the wall and saw what Mutual sent me . . . it is beyond words. Look at the following pictures.
This white crap is all over the blocks. It appears to be some kind of hardened corrosive substance that has etched, stained and ruined the smooth top surfaces of the stones. The last picture is what these things look like after trying to hose it off. It does not dissolve. Keep in mind, these are intended as the wall's top cap so they are the finished, visible surfaces.
Now I am getting further behind on our project schedule and I have to wait until Monday to start yet another battle. Just what I need.
---
August 27, 2007: Dad took photos and samples of the crap into CBS this morning and Dave and the GM, Ken started trying to get Mutual Materials to deal with it. Their contact there sounds like he does not like his job. He tried to tell CBS that this is a naturally occurring phenomenon. Interesting that it is leaching onto the pallets and the outside of the plastic shrink wrap. Even if it occurred naturally, they should not be selling those blocks.
This evening I tried to clean the stuff off with a pressure washer. We have an 11 HP Honda that generates 3200 PSI and after five or more minutes, I barely made a dent. See below. Fired off another email to the manufacturer's sales person and copied CBS. Ken at CBS sounded like he was tired of dealing with Mutual and ready to dump this stuff off on them.
I did get more of the first run done today. It is slow going as I am really trying for straight and level and learning as I go. Additionally, I am not sure what the heck the outcome will be on for the top layer so have not wanted to get too committed in case we need to return all of the material.
| | | |
| --- | --- | --- |
| After five minutes of pressure washing. Not useable! | Facing North | Facing South |
---
August 28, 2007: Of course I never heard from Mutual but Canby called and emailed a few times. Sounds like they got the run around and like this is the last straw with their relationship with Mutual. Ken found another manufacturer and has samples on the way. In the mean time, still holding out hope, I used a muriatic acid solution to attempt to clean the bricks. Took about 30 minutes per brick and they still are not useable.
I also changed the design a bit. The wall design basically involved to long runs which basically made the garden area into an island. I was going to have to bring tillers and such into the garden from the front yard. Bad design. It also meant that I could no longer get landscapers in there to dump leaves. So John and I got to shoveling.
| | | |
| --- | --- | --- |
| This opening will be an access drive. | Couple of hours with a shovel. One of my favorite things to do :) | Another view. |
---
August 29, 2007: It was over 100ºF today. I got out to work about 2:00 pm and except for rest breaks and supper break, I worked until about 7:30 pm. John helped for a few hours too.
One thing that we figured out was that we still need to excavate another foot into the hillside away from the drive. Otherwise the gate will not be able to open wide. Not what we wanted to do. It is coming along.
---
August 30, 2007: John finished up the rough excavation of the extra area we figured out last night. I got quite a few more lineal feet of the base layer set. It really is slow going to keep it right. I forgot to take new pictures.
Around 5 pm, Ken from Canby Builder's stopped in and brought by a couple of samples for top caps. They aren't perfect but they will have to do. I will let him know tomorrow to go ahead and purchased them. He offered them at cost (a little higher than the Mutual blocks) and is bringing them and picking up the bad Mutual blocks.
Called my cousin to order a load of crushed rock. The rock quarry has been closed but he said that they are supposed to start back up by the 10th. So I should get it some time around then. That will be good timing. I should have the wall basically built by then.
---
September 1, 2007: I had a leg injury so have been taking it easy the past couple of days. I got John to haul and install a bunch of blocks today, however.
---
September 9, 2007: Canby Builder's came on Thursday, picked up the bad stones and delivered the pallets of top caps. While the forklift was here, the driver hauled the pallets out of the barnyard to areas along the driveway closer to the job. That will save a lot of time.
During this past week, I have still been recovering and John has filled in when he could working on the project. I did sneak out and work for about three hours today with him as I need to have the base of the wall set in preparation of the gravel coming.
---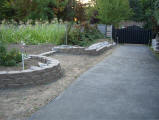 September 15, 2007: It is the time of year that harvest tasks take precedent over projects so not much has been done on the wall. We have gotten a little done. Basically ready for gravel.
Called about the gravel but the quarry is backed up another two weeks because of equipment failure.
---
September 19, 2007: We were waiting on gravel and could not move any further on the wall so we started working a bit on the back of the machine shed. And then today, my cousin brought the load of gravel. So I got my favorite shovel and got to it. Got quite a bit of it spread. Hoping to finish moving the gravel and stacking the rest of the wall tomorrow.
---
September 20, 2007: I worked on the project from about 1300 until dark. John helped for several hours as well. We got the wall completely stacked. There is still gravel that has to moved behind the wall as well as spread down the drive behind the machine shed. I am hoping to get that done tomorrow. I wrapped up the evening by hosing everything down.

Short video clip.
---
Interesting Links: