Welcome to Dunton Family Farms
Since 1909
---
Second Greenhouse Installation

2/9/12 - We have been needing more greenhouse space for some time. Last fall I started researching commercial size solutions but the price tag was too high for our non-existent budget for such things.

Time kept ticking and I kept procrastinating, and here it is, four weeks before I need to start sowing peppers. I started thinking, went outside, measured, and decided to add another Rion greenhouse next to our existing one. So I searched and found a deal and ordered it.

[ Click Here for Greenhouse Specs ] [ Click for the 2006 Page ]

---

3/25/12 - Almost six years to the date from starting the first greenhouse assembly, John & Krista start moving the border pavers, leveling the site and installing the landscape cloth.

3/25/12 - Looking North.

3/25/12 - Looking South past the 2006 greenhouse towards the new site.
3/25/12 - Reinstalling the pavers, spreading gravel.
3/25/12 - John & Krista installing the pavers.
3/26/12 - Rested up and starting on the assembly.

3/26/12 - Making sure that the base is weighted down with the gravel and level is probably the hardest / most time consuming part of the assembly. And also the most important.

3/27/12 - John and Krista assembling the roof.

3/27/12 - Walls up waiting for roof.

3/27/12 - Another view.

3/27/12 - Grandpa Larry pruning and waiting to help install roof.

3/27/12 - Ready for the roof and completion.

4/12/12 - Done! Looks like it has always been there ... or at least like a plan was involved.
4/12/12 - Close-up broken latch. RION replaced it.
---
RION HG-16 Hobby Gardener Series Greenhouses (8' 6" x 16' 8")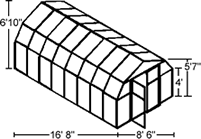 Product Update: For model years 2009 and earlier this greenhouse was known at the Rion Professional GH40 Series. For model year 2010 it is now the Rion Hobby Gardener series.
Easy to assemble, NO TOOLS REQUIRED!

Twin wall light-diffusing polycarbonate panels.

Expandable - easily add extensions in the future.

Lightweight and easy to handle packaging.

Sturdy and durable.

Wind resistant. Roof tested to hold 1100 lbs of snow.

Resin frame is maintenance free and fully insulated (aluminum frames are not).

Comes with hinged doors.

Available in green or white.

Full 7 Year Warranty.
Click Here for Assembly Manual [PDF]
Rion Hobby Gardener Series Greenhouses: Attractive, Durable, Expandable and Easy No-Tool Assembly! The durable frame is constructed from UV protected PVC resin and held together with push-n-fit resin connectors. The twin walled polycarbonate panels offer superior strength, safety, light diffusion and heat isolation. The Rion Greenhouses can withstand winds of up to 80 mph and have been tested to support a 1,100 lb snow load! All this quality plus an easy, no-tool assembly make a Rion Greenhouse perfect for the growing enthusiast's needs.
Available White Frame! The Rion Hobby Gardener series greenhouse features an optional white frame. The white frame is both aesthetically pleasing, and can be a good choice for gardeners who live in areas which consistently reach temperatures of 110 degrees F for sustained periods of time.
Source: http://www.riongreenhousekit.com/rionhobbygardener-hg16.php